A dynamic and tailor-made experience for companies
More than a supplier, Excelso wants to be a true business partner who puts all its know-how and thirty years of history at the service of its customers.
Proven and flexible formula that adapts to each industry;
Integrated solution "cafeteria + catering + vending machines" that meets all needs;
Rigorous management, available leaders and dynamic teams, always on the lookout for new trends;
Active involvement beyond food services;
Development and design of kitchens, service areas and dining rooms.

A comforting and authentic experience for users
On a daily basis, our dedicated teams strive to ensure that employees enjoy a relaxing moment in a friendly and pleasant place.
Varied and evolving offer;
Balanced cuisine, developed by a team of nutritionists and performed by qualified personnel;
Fresh produce primarily from local producers;
Best-choice products identified by our signature "Healthy Choice";
Thematic menus and seasonal entertainment;
Take-out meals;
Personalized service;
Effective management of traffic.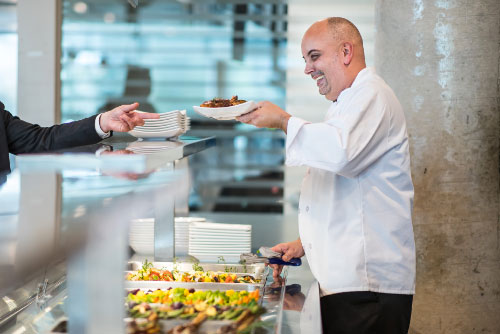 A rewarding experience for our employees
Our team is an integral part of our success and your satisfaction. Their talent is to multiply by 100 or 1000 the art of cooking in the serving of each dish every day. Ours is to nurture their creativity and commitment.
Human philosophy focused on respect for individuals and recognition of talent;
Healthy and safe work environment. Many internal programs help maintain a collaborative and stimulating environment;
Participative management mode that values ​​individual initiative, creativity and the involvement of everyone;
Encouragement for professional growth and many opportunities for advancement through internal mobility and continuing education.